Designing a Nature-based Project in Refugio County
The natural features of Refugio County play a dual role of supporting local fishing and tourism-based economy while buffering the shoreline and reducing wave energy to provide hazard risk reduction benefits. National Wildlife Federation, through Partnerships with Harte Research Institute at Texas A&M University-Corpus Christi and The Refugio County Leadership, is Designing a Nature-based Project in the Region. The potential nature-based project in the county can help balance extreme event vulnerabilities, strengthen natural features to withstand these impacts, and support long-term development goals of the community. National Wildlife Federation will leverage its topical expertise on nature-based solutions and build upon its local climate adaptation efforts in the Texas Mid-Coast to co-develop this project with the County.
Our Plans
Our goal is to support coastal resilience in Refugio County. Through this project, we will
Engage community experts through multiple approaches to identify a nature-based project.
Facilitate conversations on nature-based solutions available for the county.
Create an organized community to support the county's resilience efforts.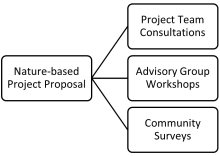 What do Nature-based Projects look like?
Nature-based Solutions are actions to protect, manage and restore natural and modified ecosystems to address societal challenges and provide both human well-being and biodiversity benefits. Restoring marshes, strengthening shoreline through natural features (living shorelines), nourishing beaches, and designing greenways and open spaces are all examples of Nature-based Projects
Examples of Nature-based Projects
Exploration Green in the City of Webster is a nature park that converted golf course into detention lakes and wetlands, helps clean runoff from storms and opportunities for hiking, biking, bird-watching to community.
Nueces Bay Marsh Restoration Project created 160 acres of salt marsh protecting surrounding areas from erosion and storms, enhance habitat quality and biodiversity of adjacent marine habitats.
Living Shoreline Project in Baffin Bay restored the eroding shoreline near the boat ramp using 150 feet of shoreline riprap breakwater and marsh plantings and costed a third of a typical sea wall
Take the project survey!
If you are a resident of Refugio County, we invite you to share your input. This survey was developed by the project leads with guidance from a local Advisory Group to gather feedback about a proposed nature based project located at Black Point in Bayside, Texas.