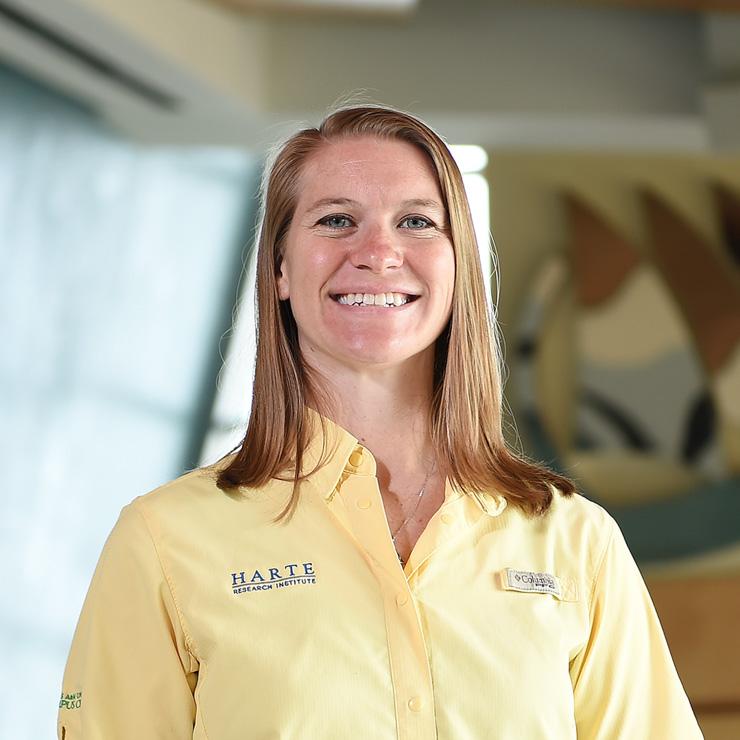 Tara Topping, M.S.
Research Specialist II
Email
tara.topping@tamucc.edu
Education
B.S., Marine Biology, University of Rhode Island. (2006)

M.S., Fisheries Science, Auburn University. (2011)
Tara Topping is the project leader for iSnapper, a groundbreaking smartphone app launched by the Center for Sportfish Science and Conservation to easily collect fisheries data from recreational anglers. Tara's interest in the ocean was sparked in childhood. Growing up in Connecticut, she was accepted into a tropical marine biology course that included a week-long trip to the now Bermuda Institute of Ocean Sciences, where she felt at home snorkeling among the coral reefs and excelled at reef fish biology. She later attended the University of Rhode Island and graduated magna cum laude with a bachelor's degree in marine biology, and in 2011 received her master of science in marine fisheries and allied aquacultures from Auburn University. After graduating, she moved to Florida to monitor fisheries with the Florida Fish and Wildlife Conservation Commission in the Big Bend area.
Since joining CSSC in June 2014, Tara has assisted with projects including tagging large migratory sharks, diver and ROV (remotely operated vehicle) surveys of artificial reefs and inshore sampling on the newly-dredged Cedar Bayou.