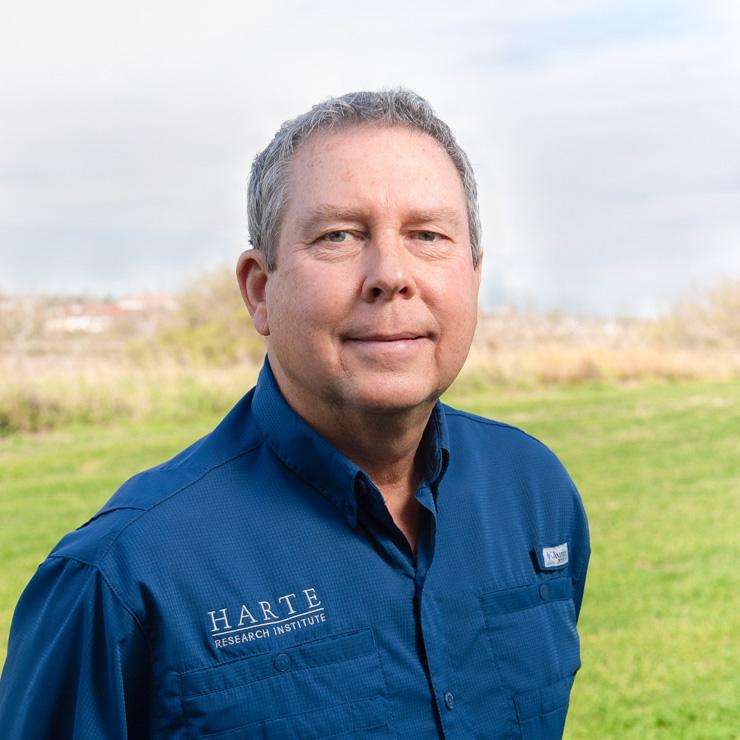 Dale Gawlik, Ph.D.
HRI Chair for Conservation & Biodiversity
Email
dale.gawlik@tamucc.edu
Education
Ph.D. Wildlife Science, Texas A&M University (1994)
M.S. Biology, Winthrop University (1988)
B.S. Wildlife, University of Wisconsin Stevens Point (1984)
Dr. Dale Gawlik is HRI Chair for Conservation and Biodiversity at the Harte Research Institute at Texas A&M Corpus Christi and a Professor in the Department of Life Sciences. His research focuses on waterbird ecology and conservation, wetland and intertidal ecosystems, restoration ecology, and the use of birds in aquatic ecosystem management. He has published over 80 papers, many focused on how hydrologic processes in coastal and freshwater ecosystems control wading bird populations. He and his students have developed heron, stork, and ibis habitat models that link bird populations to the hydrologic management and restoration of the Everglades of Florida. Dale is a Fellow in the American Ornithological Society and he serves on the IUCN Heron Specialists Group and IUCN Stork, Ibis, and Spoonbill Specialist Group. He also is a member of the U.S. Fish and Wildlife Service's Wood Stork Working Group and the International Reddish Egret Working Group. Dale has held elected leadership positions in professional ornithological and scientific societies, including the Association of Field Ornithologists, Waterbird Society, Wilson Ornithological Society, and the Florida Chapter of the Wildlife Society.
Selected Publications:
Martinez, M. T., L. Calle, S. Romañach and D. E. Gawlik. In press. Evaluating transferability of a model estimating shallow-water availability for foraging waterbirds in intertidal systems. Ecosphere.
Essian, D. A., R. Paudel, and D. E. Gawlik. 2022. Predicting effects of water management on breeding abundance of three wading bird species. J. of Wildlife Management. DOI: 10.1002/jwmg.22155.
Evans, B. A., J. A. Klassen, and D. E. Gawlik. 2021. Dietary flexibility of Wood Storks in response to human-induced rapid environmental change. Urban Ecosystems. | https://doi.org/10.1007/s11252-021-01181-9.
Kingsford, R. T., G. Bino, C. M. Finlayson, D. Falster, J. A. Fitzsimons, D. E. Gawlik, N. J. Murray, P. Grillas, R. C. Gardner, T. J. Regan, D. J. Roux, and R. F. Thomas. 2021. Ramsar wetlands of international importance-improving conservation outcomes. Frontiers in Environmental Science 9:643367. DOI: 10.3389/fenvs.2021.643367.
Evans, B. A. and D. E. Gawlik. 2020. Urban food subsidies reduce natural food limitations and reproductive costs for a wetland bird. Scientific Reports 10:14021 | https://doi.org/10.1038/s41598-020-70934-x.
Calle, L., L. Green, A. Strong, and D. E. Gawlik. 2018. Time-integrated habitat availability is a resource attribute that informs patterns of use in intertidal areas. Ecological Monographs 88: 600-620.
Klassen, J. A. and D. E. Gawlik. 2018. Does a long-term shift in Wood Stork diet foreshadow adaptability to human-induced rapid environmental change? Journal of Field Ornithology 89:126-139.
Botson, Bryan A., D. E. Gawlik, and J. C. Trexler. 2016. Mechanisms that generate resource pulses in a fluctuating wetland. PLoS ONE 11: e0158864.
Calle, L., D. E. Gawlik, Z. Xie, L. Green, B. Lapointe, and A. Strong. 2016. Effects of tidal periodicities and diurnal foraging constraints on the density of foraging wading birds. Auk 133: 378-396.