HRI Associate Director Attributes Leadership Skills to U.S. Navy Career
Post
Carmen Osier, the Associate Director of the Harte Research Institute for Gulf of Mexico Studies (HRI) at Texas A&M University-Corpus Christi (TAMU-CC), wears many hats in her role. Osier works closely with senior leadership, provides accounting support, budget development and management, both pre- and post- sponsored research administrative support to HRI researchers, and oversees the HRI support team. What some may not know, however, is that she's also a U.S. Navy Veteran.
Osier spent five years in the United States Navy from 1995 through 2000, working within various capacities in Aviation Electronics. Osier attended technical training school for two years in Tennessee and Virginia before being stationed in Georgia where she worked in maintaining radar and long-range radar equipment. It was during this time that she was presented with the Navy Achievement Medal. The medal is awarded for a person's service that has exceeded what is typically required or expected of them and is a beneficial contribution to the United States and the U.S. Navy.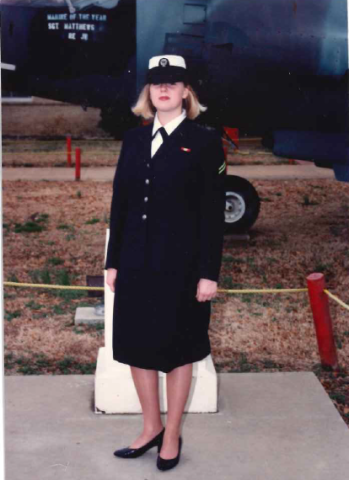 Osier was later promoted to working on, and then teaching, aircraft wiring systems, including systems for helicopters. Osier's promotion was difficult to obtain, and she was one of few who received the advancement.
"This was before service members were issued an email address, so my Sergeant called me while I was on leave to tell me about the promotion," Osier said, noting the unusual nature of being contacted with good news while at home by senior military personnel.
While her career in the Navy was much different than her current role, Osier says that she is proud of her service and the many ways it prepared her for her future career and leadership position.
"It taught me how to protect and be there for my team, how to be dedicated to my work and the tasks at hand, and also how to persevere through tough times."
Her hardworking nature allowed her to earn her Bachelors and Masters in Accounting from TAMU-CC in 2013 and 2015, respectively, while also earning her CPA certification.
HRI is grateful and proud of Osier's dedication to the Institute, and we thank her and all military Veterans, including HRI's Endowed Chair for Coastal and Marine Geospatial Sciences, Dr. James Gibeaut, Software Applications Developer, William Nichols, and Graduate Research Assistant, Anthony Lima, for their service and sacrifice.