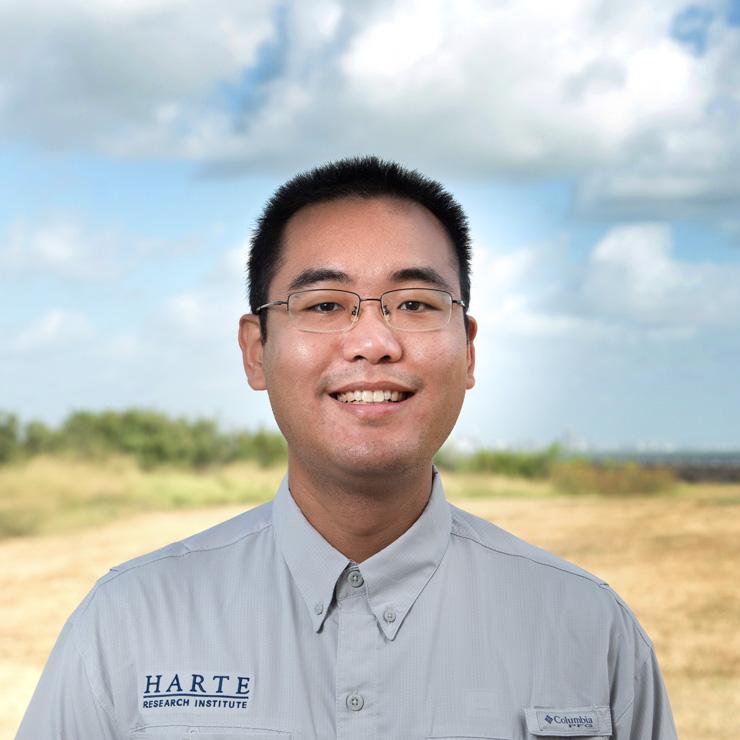 Hang Yin, Ph.D.
Postdoctoral Research Associate
Email
hang.yin@tamucc.edu
Education
Ph.D. Marine Sciences, Stony Brook University (2020)
B.S. Marine Chemistry, Ocean University of China (2014)
Dr. Hang Yin joined the Harte Research Institute for Gulf of Mexico Studies (HRI) at Texas A&M University-Corpus Christi as a Postdoctoral Research Associate in June 2021. He graduated with a doctorate in Marine Sciences from the School of Marine and Atmospheric Sciences at Stony Brook University. His dissertation focused on 2D optical sensor development/application and sediment early diagenesis. He studied long-distance electron transport reactions mediated by multi-cellular filamentous cable bacteria in different kinds of sediment deposits and documented their colonization dynamics, interactions with various bioturbation patterns, and impacts on sediment sulfur, phosphorus, and carbonate cycling.

At HRI, Hang works with Dr. Xinping Hu and other lab members of the Ecosystem Science & Modeling lab. He is interested in expanding his research interest from sediment biogeochemistry to marine carbon cycling. His research uses Eddy Covariance Method to study carbon dioxide fluxes and studies the estuarine input effects on coastal carbon cycling. He will also learn and use modeling technics to study coastal and ocean carbon fluxes and acidification at HRI. He is happy to make friends and to talk about other research ideas.