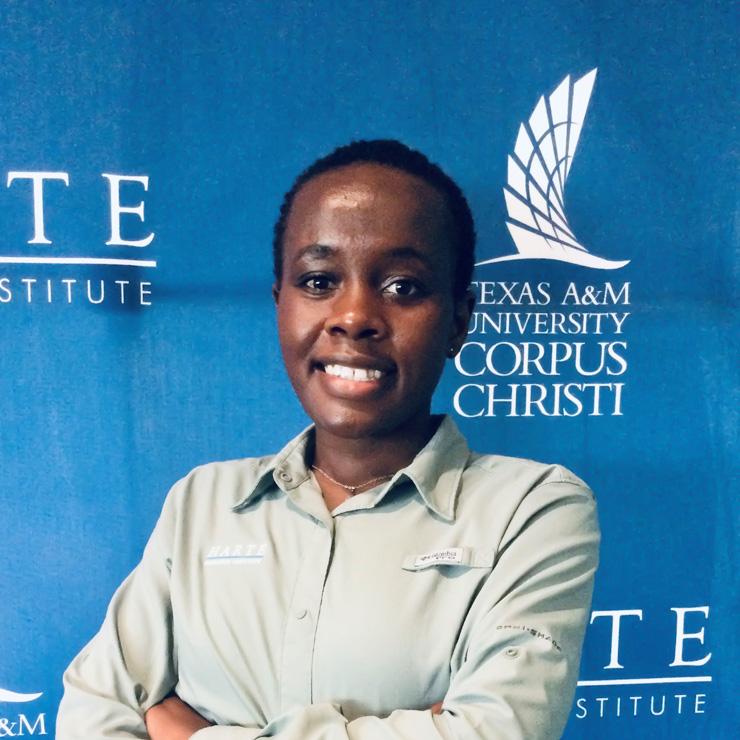 Nicole Kumbula
Graduate Research Assistant & Crutchfield Fellow
Email
nkumbula@islander.tamucc.edu
Project Title
Total Alkalinity in the Northern Gulf of Mexico
Expected Graduation Year
2023
Education
B.S. Chemistry, Bates College (2021)
Nicole Kumbula is a second-year master's student in chemistry at Texas A&M University-Corpus Christi. She earned a B.S. in Chemistry from Bates College in Lewiston, Maine. At HRI she works with HRI Chair for Ecosystem Science and Modeling, Dr. Xinping Hu. Her masters' work uses statistical analysis in R and MATLAB to map and model total alkalinity dynamics in the Gulf of Mexico. This work is aimed at understanding the region's trends in carbon dioxide sequestration over the past few decades thus the role of oceans in combating climate change. Nicole is a Crutchfield Fellowship recipient from HRI. Born and raised in Zimbabwe, TAMU-CC's M.S. Chemistry program with an earth sciences research focus drew her to Texas.
In 2019, Nicole participated in a multicontinental exchange program studying social justice and sustainable development in urban environments. The program took her to New York, Buenos Aires, Barcelona, and Cape Town. This program sparked her interests in extending her work beyond the laboratory to include fieldwork and community outreach. She hopes to learn and collaborate with interdisciplinary students, researchers, and policy makers at HRI and around the Gulf of Mexico.
Nicole identifies herself as an environmental chemist and Zimbabwean agricultural entrepreneur who is on a PhD journey. She hopes to use her chemistry expertise to create a clean environment especially for women and children in Sub-Saharan Africa. Nicole is intentional about giving back and making a difference in the community that raised and supported her. In May 2021, through a pitch competition at Bates College, Nicole won a seed grant to start a social venture aimed at addressing food insecurity through the provision of cattle for farming to a rural community. The pilot project is located in Chivhu, Zimbabwe. Nicole is also a stakeholder in Musoromuchena Skills for Life Organization (Makonde, Zimbabwe) and volunteers with ideas and networks. Her family runs various small-scale businesses in Zimbabwe, and she advises on family and friends' initiatives back home. Out of school and social involvements, Nicole enjoys travelling and cooking, she has lived in 10 countries over the past 5 years and is on a mission to visit all the 50 U.S States by the time she finishes her PhD.