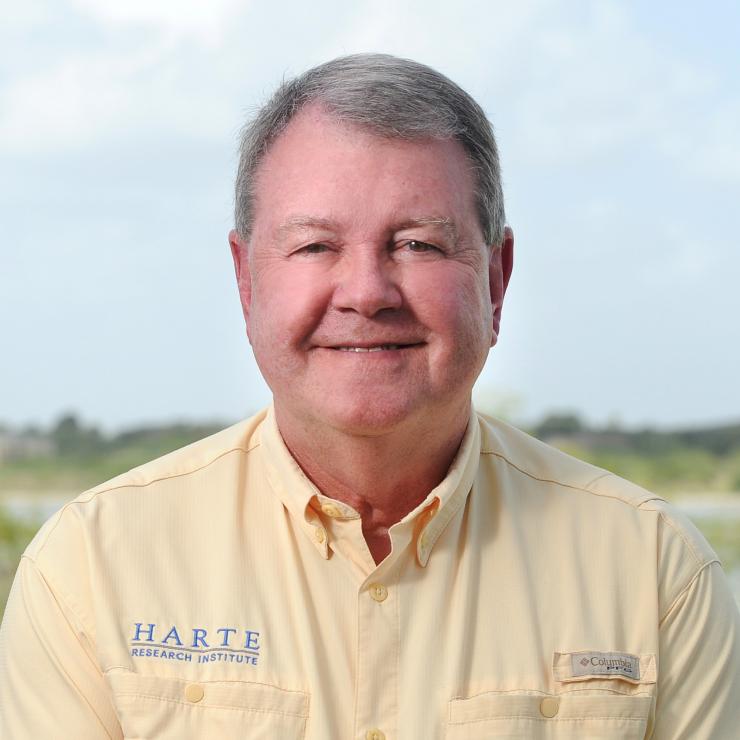 Larry McKinney, Ph.D.
HRI Chair for Gulf Strategies
Email
larry.mckinney@tamucc.edu
Education
Ph.D. in Biology, Texas A&M University, 1976
Smithsonian Summer Fellow, 1976
B.S. in Zoology, Texas A&M University, 1971
Expertise
Dr. McKinney effectively interacts with the many stakeholder interests in the Gulf of Mexico. Through his education and experience, he has the unique perspective to balance a healthy Gulf and a healthy economy. Through hands-on research and committed leadership, he has developed a reputation for taking on difficult and controversial environmental issues like endangered species conservation, water resource development, and habitat loss throughout the state of Texas.

Presently, half the wetlands in the Gulf of Mexico have been converted into houses, retail centers or cut up into canals and what's left may be sinking beneath our feet as we pump water and oil. The Gulf of Mexico is one of the most productive bodies of water on the face of the planet. Utilizing the "HRI Model," Dr. McKinney and his team bring together the diverse sciences that not only help to better understand the Gulf but also translate that science into effective policies and actions.
Additional Activities
Dr. McKinney led the Morris Deal Commission a national effort to reform management of recreational fisheries, leading to the publication of A Vision for Managing America's Saltwater Recreational Fisheries. The recommendations in that document provided the policy guidance for the Modern Fish Act, signed into law by President Trump, December 31, 2018. The Act modernized management of the $18+ Billion a year industry and assured continued economic and conservation benefits derived from saltwater angling for the foreseeable future. In 2019, Dr. McKinney was one of only one hundred ocean leaders (three from the Gulf of Mexico) invited to participate in the White House Ocean Summit, to set new priorities for US exploration, development and conservation. Dr. McKinney is also a member of the National Academy's of Science Gulf Research Program's Committee on Long Term Environmental Trends in the Gulf of Mexico, a two-year effort initiated in August of 2020, to assess effects of restoration efforts in the Gulf following Deepwater Horizon and evaluate the possible influence of natural and anthropogenic, like climate change and coastal development on those efforts.
Selected Publications
Dr. McKinney brings both a scientific knowledge of the marine environment and a relationship with many of the people who are shaping marine policy. He shares his perspective through a number of articles, publications, and journals.

Ramenzoni, V, Besonen, MR, et.al, McKinney, LD. 2020. Transnational Research for Coastal Wetlands Conservation in a Cuba-US Setting. Global Sustainability 3 e19, 1-11. https://doi.org/10.1017/sus.2020.14
Harwell, MA, Gentile, JH, McKinney, LD, Tunnell, JW, et. al. 2019. Conceptual Framework for Assessing Ecosystem Health. Integrated Environmental Assessment and Management. Vol 15, Number 4. Pages 544-564. https://doi.org/10.1002/ieam.4142
McKinney, L.D. 2017. Universities Should Not Abandon Cuba. http://science.sciencemag.org/content/358/6367/1115/tab-e-letters
Wowk, K., L. McKinney, F. Muller-Karger, R. Moll, S. Avery, E. Escobar-Briones, D. Yoskowitz & R. McLaughlin. 2017. Evolving academic culture to meet societal needs. Palgrave Communications 3:35 (2017).
McKinney, L.D. 2007. The State of the Gulf. Texas Parks and Wildlife Magazine, July. Pages 20 to 27.
McKinney, L.D., I.Blandon and R Ward. 2006. Conservation Genetics of Atlantic Tarpon. Second International Bonefish and Tarpon Symposium. Daina Beach, Florida.
McKinney, L.D. 2006. The State of Wetlands. Texas Parks and Wildlife Magazine, July. Pages 22 to 31.
McKinney, LD., R. Richers, et al. 2005. Flounder on the Rebound. TIDE. Nov/Dec.
McKinney, L.D. 2005. The State of Springs. Texas Parks and Wildlife Magazine, July. Pages 24 to 29.
Moulton, D.W. L.D. Mckinney and D.L. Buzan. 2004. Texas Coastal Ecosystems: Past, Present and Future. TAMU-SG-04-201. Texas Sea Grant, College Station, Texas. 40 pages.
McKinney, L.D. 2004. The State of Rivers. Texas Parks and Wildlife Magazine, July. Pages 21 to 25.
McKinney, L.D. 2003. The State of Bays. Texas Parks and Wildlife Magazine, July. Pages 21 to 28.
McKinney, L.D. 2002. Water for the Future. Texas Parks and Wildlife Magazine, July. Pages 21 to 28.
Harvey, Bill and L.D. McKinney. 2001. Recreational Fisheries and Aquaculture: Throwing a Line in the Pond in Responsible Marine Aquaculture. Pages 61-70. CABI Publishing. New York, NY.
​